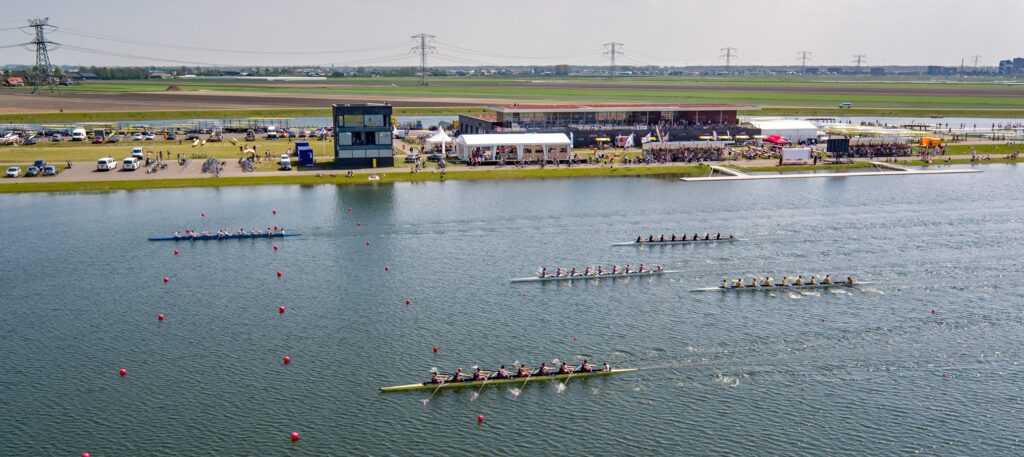 The D.S.R.V. "Laga" will this year be organising the eleventh edition of the Raceroei Regatta. On the 13th and 14th of May, rowers will be able to go to this match on the Willem-Alexander Baan in Rotterdam.
The focus of the competition is optimally supporting the rower during his/her performance. These rowers can enjoy a free lunch and comfortable warm-up options. Also bicycles will be available for visitors and coaches to cycle along the side.
During the race, spectators will be involved through clear commentary and a live stream. Besides rowing there is also much more to experience along the track. There are various stalls along the boulevard with companies and DreamTeams where all visitors and rowers can have a chat.
In the coming edition, the Raceroei Regatta will once again be part of both the Development ranking and the First-year ranking. This means full days on all the 8 lanes of the Willem-Alexander Baan. The Raceroei Regatta also offers starting opportunities for the more experienced rowers in the Advanced and Elite fields and juniors will start again this year in the various junior fields.
In short, do you also want to enjoy a weekend full of exciting races, perfect facilities and many other activities? Then make sure you're there on May 13 and 14, 2023!